Latest Updates - 12/7/06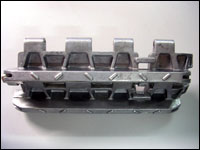 Aluminum Tracks:
All tank kits now come with very detailed die cast aluminum tracks. These tracks are easy to assemble and matched with the new laser cut steel drive sprocket ring gears perform great. Each kit includes 200 die cast aluminum links and 200 plated steel pins. Note: Tracks are available seperately for $385.00 set. Set of 4 steel ring gears are $45.00 set.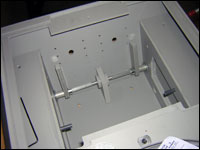 New Idler Wheel Adjustment:
The new idler wheel tension adjustment is made from machined aluminum parts and maintains proper track tension even under the most severe use but is still easy to assemble and adjust. The new idler wheel adjustment comes standard with kit.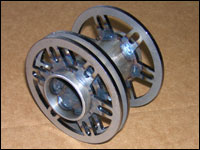 New Steel Idler Wheels for King Tiger and Hunting Tiger:
The new idler wheels are constructed from laser cut steel parts that are welded together. Each wheel rotates on a set ball bearings. An injection molded plastic cap covers the front of the wheel and adds all the detail of the real thing. All track guiding and tension is performed by the steel parts and very little stress is placed on the plastic cap. The new idler wheels come standard with King Tiger and Hunting Tiger Kits.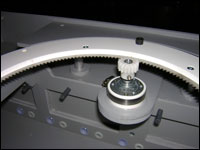 New Gear Drive for Turret Rotation:
The key feature of this new turret drive is the large laser cut internal steel gear. This internal gear is driven by a small nylon pinion gear attached to a drive motor. The new system is easy to assemble and disassemble to gain access into the hull.





Tool and Machine Detail Set:
Resin cast detail set includes machine gun, fire extinguisher, shovel, hammer, axe, wire cutters and jack. $45.00 set.